The screw conveyor also called auger conveyor,it is a kind of machine that uses the motor to drive the screw to rotate and push the material to achieve the purpose of conveying. It can be transported horizontally, inclined or vertically, and has the advantages of simple structure, small cross-sectional area, good sealing, convenient operation, easy maintenance, and convenient closed transportation. Screw conveyor is a continuous conveying equipment widely used in metallurgy, building materials, chemical industry, grain and mechanical processing and other departments.
There are two types as per structure design: shaft screw conveyors and shaftless screw conveyors in terms of conveying form, and U-shaped screw conveyors and tubular screw conveyors in terms of shape.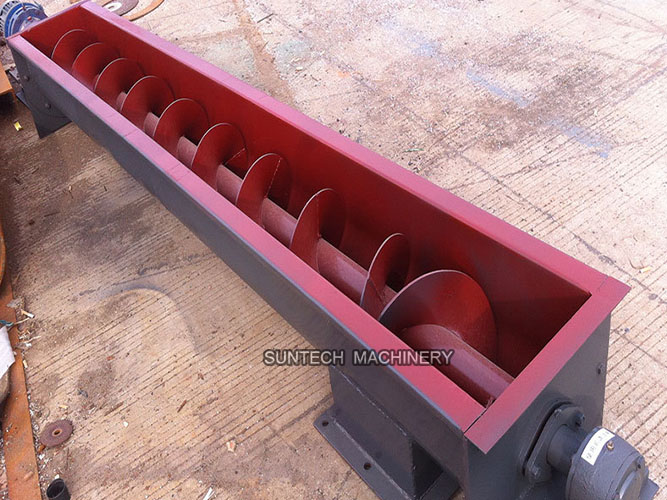 So what is the difference between a shaft screw conveyor and a shaftless screw conveyor?
The shafted screw conveyor is suitable for non-viscous dry powder materials and small particle materials such as: cement, fly ash, lime, grain, etc. , while the shaftless screw conveyor is suitable for conveying viscous and easily entangled materials such as sludge, biomass, garbage, etc.
The shafted screw conveyor has low power consumption and higher productivity. Shaftless screw conveyor is a kind of environmental protection equipment that has no central axis and relies on the rotation of the spiral screw blade to transport materials. It is mainly used to transport sludge and grid slag from various sewage treatment plants. There are also the wearing nylon protective liner inside the trough.
The conveying angle of the shaftless screw conveyor generally cannot exceed 30 degrees, because it is easy to cause the material to fall off when conveying the material, while the shafted screw conveyor is supported by the screw shaft, the conveying angle can exceed 30 degrees, and it can even be achieved close to conveying at vertical direction.
The capacity of the shaftless screw conveyor is 1.5 times than that of the shaft screw conveyor. Because there is no intermediate shaft, has more volume in the conveying pipeline, and the material is not easy to be blocked and can be quickly conveyed along the direction of the spiral rotation.
Different structure machine is for different application, if you are hesitate to decide which type to choose, pls contact us about your specific request, we can analysis and choose the right model for you.