Rotary Vibrating Screen
---
Rotary vibrating screen is the universal vibration sifter widely used for food, chemical, metallurgy powder sieving in different mesh size.
Model: ST400, ST600, ST800, ST1000, ST1200, ST1500, ST1800
Layers: 1-5 Layers available for choice
Material: Full Stainless Steel, Contact Stainless Steel, Full Carbon Steel
Mesh size: Customized from 2-500 Mesh
Adopt the vertical vibration motor as the vibration source, working by different mesh size or aperture size screen sieve, Rotary Vibrating Screen is one kind of fine powder sieving machine. It is also called circular vibratory sifter, round vibration sieve, vibro sifter etc. It is mainly used for sieving to remove the impurities, classification in different mesh size, solid liquid separation etc. With different mesh size screen, as per different sieving production needs, it can achieve 2-6 grades by one machine, 1 layer rotary vibrating screen is with 2 outlets for 2 size separating, 2 layers rotary vibrating screen is with 3 outlets for 3 size grading etc. It can be made in 5 layers for 6 size grading.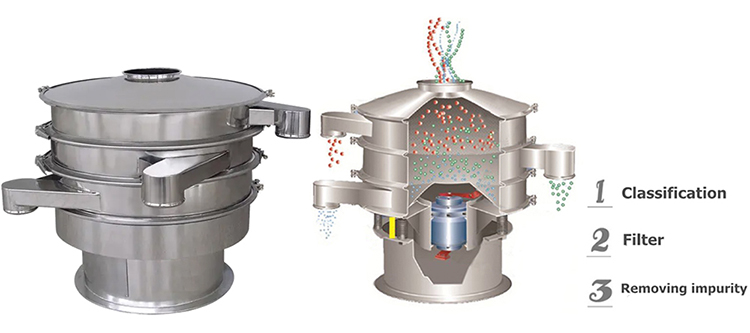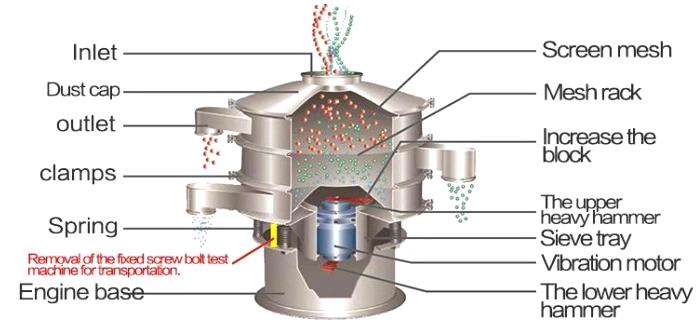 By means of the upper and lower hammer mounted on the vibration motor, the Rotary Vibrating Screen machine can convert the rotary motion force of the motor into three dimensional motion (Horizontal, Vertical, Inclined),then this motion will be transferred to the screen surface and realize the sieving purpose. The vibration force can also be adjusted by adjusting the upper and lower ends of the phase angle of the hammer so as to meet the different sieving accuracy requirement.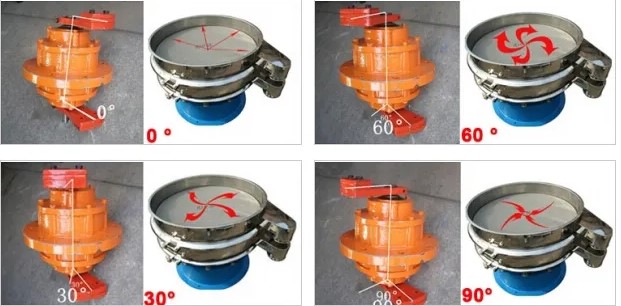 Simple Structure, Easy Maintenance: unique screen grid design with longer service life , multiple screen frame fixed way by screw bolts or quick opening clap way, only 3-5 mins to open the machine and replace the screen sieve.
2. Wide Application, Easy Operation: Discharge outlet can rotate in 360 degree, both good usage by one machine or connected with screw conveyor or mixer to compile in production line
3. Grading, Filtration,Dust Removing: multiple usage for any powder, granular, slurry, or liquid can be screened.
4. Non clogging sieve design, dust free,  and the sieve can be made as fine as 500 mesh.
5. Optional extra device: Iron remover, explosion-proof motor, control valve gate for the outlet, ultrasonic generator system sieve, rotating brush etc.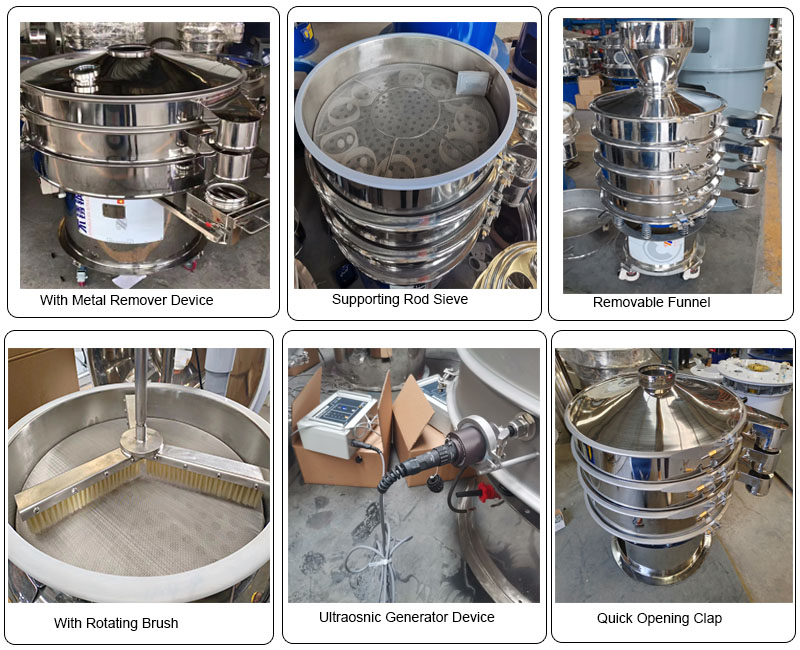 With different sieving requirements, there are different machine materials to choose, like full stainless steel, plastic, contact part stainless steel, and full carbon steel, etc., as per different sieving standards, you can choose SUS 304 or SUS316L for stainless steel part.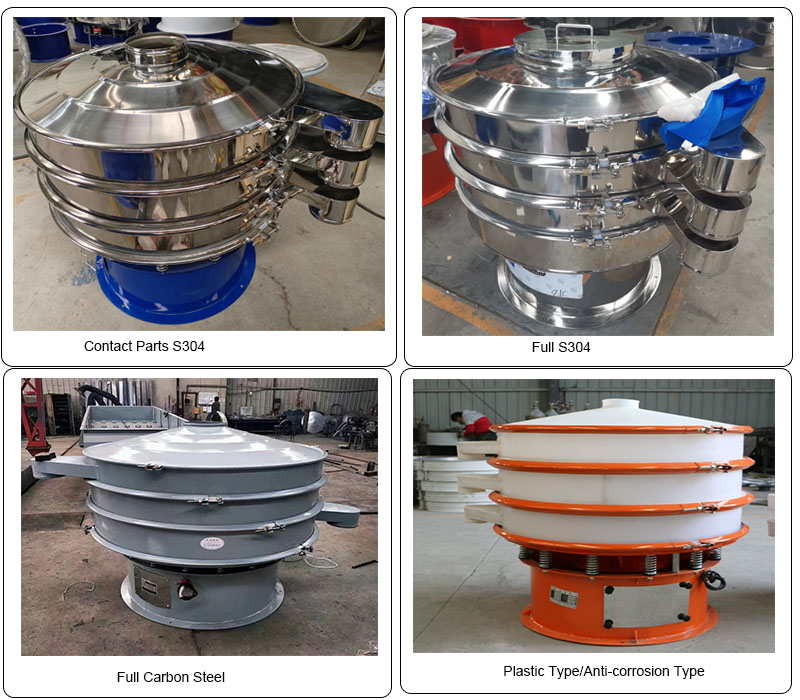 Food industry: sugar, salt, alkali, gourmet powder, starch, milk powder, yeast powder, pollen, food additive, bean milk, juice,
Chemical industry: resin pigment, medicine, grease, paint, palette, plastic granules etc
Abrasive material and ceramic industry: building sand, mica, alumina, abrasive, refractory material, slurry, etc
Metallurgy and mining industry: quartz sand, ore, titanium oxide, zinc oxide, etc
Iron industry: ore, titanium oxide, zinc oxide, sand casting, powder metallurgy hard alloy, magnetic materials, aluminum powder, metal powder, etc.
Other industries for powder and granules: activated carbon, and pearls etc.
Model
Inner Diameter
Sieving Area (M2)
Screen Mesh
Layer
Power (KW)
ST-400
360
0.0907

2-500

1-5
0.25
ST-600
560
0.2289
1-5
0.55
ST-800
760
0.4183
1-5
0.75
ST-1000
960
0.6359
1-5
1.5
ST-1200
1160
0.9499
1-5
1.5
ST-1500
1460
1.5386
1-3
2.2
ST-1800
1760
2.2687
1-3
3.0